WelcomeTo Manikior!
Luxury Press-On Nails. Handcrafted Quality.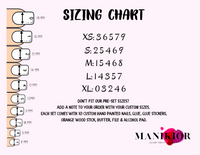 How To Size Your Nails
It is highly recommended that you purchase a sizing kit before placing your Manikior order to ensure the perfect fit.
Sizing your nails for your set is the most important step before placing your Manikior order! Correctly sizing your nails will ensure the best fit and the most wear out of your press-ons. If you mistakenly order a set that does not fit you, you will have to pay full price for a new replacement set. It is your responsibilityto measure correctly. Each Manikior set is custom made by hand especially for you. Please reach out to me @manikior.nails with any sizing questions!
With a flexible measuring tape, measure the widest part of your nail in mm, that will be your "nail size". We have sizes X-SMall - X-Large. You can also choose to have your set made custom if you feel these sizes wont fit you.