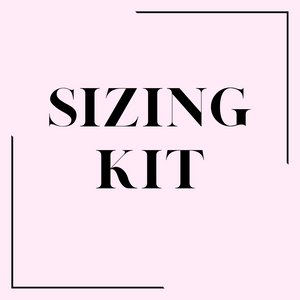 Sizing kits are available in shapes:
EXTRA EXTRA short soft square- if you like a short, softer square look.
EXTRA Short round- best for flat, short, small to normal nail beds. 

 

Natural length/shape look.

EXTRA short coffin - tapered tip with a straight blunt edge. Perfect for most nail bed lengths.   
Short round - most popular shape. Natural length/shape look.
Short square - for those who have longer nail beds and want a tiny bit of length.
Short stiletto- of a medium length look, tapered & pointy tip.
Short almond - of a medium length look, perfect for any nail bed length. Tapered & round tip
Medium almond - if you have longer nail beds this is your shape
Medium coffin - the longest shape
Medium Square - classic tapered square shape
Sizing kits are required before making a purchase of a design set. This is to ensure the correct fit for your custom nails. Sizing kits are available to order at any time throughout the week. 
PLEASE DIRECT MESSAGE ME FIRST BEFORE PURCHASING. Your order will be canceled if you do not contact me via Instagram first @manikior.nails or by email info@manikior.com
sizing kit
Application kit included
Hand painted, reusable, gel press on nails
Hand crafted in The Bay Area
100% gel nails
No refunds based on sizing, nail sizing is customers responsibility.
Manikior is not responsible for shipping carrier errors